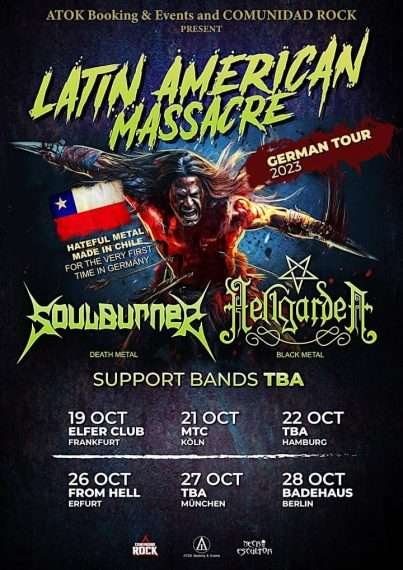 October 19, 2023 — September 28, 2023
Europe
Time: 8:30PM
Venue: Latin America Massacre
Country: GER
Chile's infernal Death and Black Metal bands, Hellgarden and Soulburner, embark on their first-ever tour to Germany.
Latin American Invasion! Secure your spot for this historic event and immerse in the spirit of Chilean metal in Germany, along with the stellar performances of local supporting acts in each city.
Known for their relentless pursuit of sonic destruction, Soulburner will deploy their arsenal of bone-crushing riffs and deep, roaring vocal violence. Inspired by the depths of darkness and the void beyond, Soulburner's musical devastation is an immersive experience that inspires both primal fear and awe. As one of Chile's most revered death metal bands, Soulburner will undoubtedly transport you to a state of frenetic ecstasy.
Hellgarden, Chile's finest representatives of black metal, share the stage with them on this diabolical evening. Hellgarden's immersive atmospheres, eerily plucked guitars and infernal screams will envelop you in an enigmatic flair and take you on a journey through the abyss of the occult. With their intense and rousing performances, Hellgarden guarantees an unforgettable and spooky experience for all fans of extreme music style.
https://www.instagram.com/soulburner_official/
https://www.instagram.com/hellgarden_official/
Tour Dates:
Don't miss the unholy union of Death and Black Metal as Soulburner and Hellgarden, alongside the crushing power of local talents, unite under metal's darkest forces!